The president will be giving a live speech soon as you all know. The ISP for my work was kind enough to completely lift the restrictions on our fiber line for 24 hours. They did this because this fiber line is the president's Internet connection before and after the speech. The press will be using it for their stuff. Then during the speech it is the primary line for the upload on the live stream.
I must say it was damn cool seeing the jaws drop on the presidential's IT staff when they did their speed test to washington and got 70Mbps download and 35Mbps upload. They only requested 4Mbps upload. Apparently that isn't a normal thing when they go places. hehe.
I think this picture doesn't need any explaining.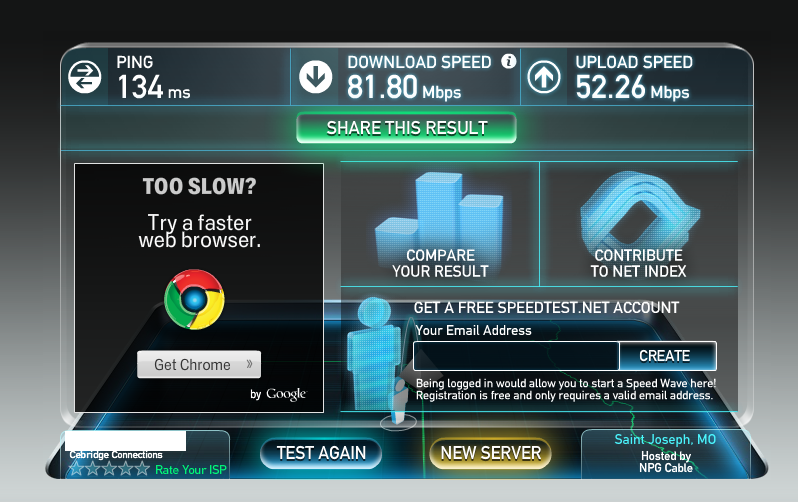 134 ms ping (7ms is correct.). 81.80Mbps Download. 52.26Mbps Upload. Saint Joseph, MO.
Here is the picture for the test to Washington, DC.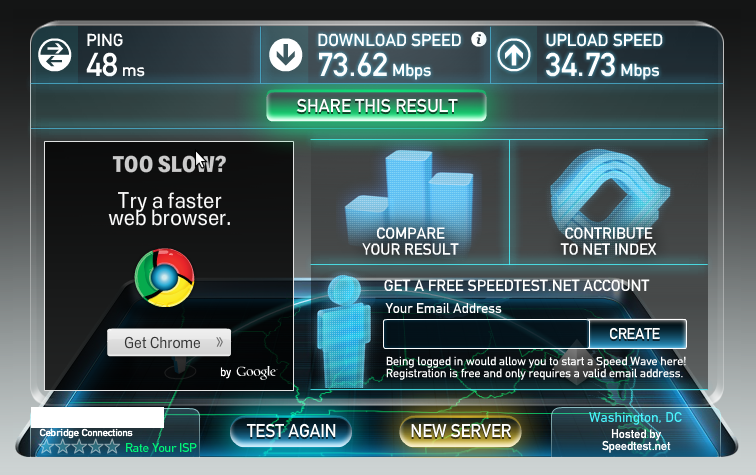 48ms ping (correct this time). 73.62Mbps Download. 34.73Mbps Upload. Washington, DC.
-----------------------------------
This is for IT people. :P
Ok so the reason our ISP lifted the restrictions is because of another problem. Our fiber line is suppose to be a 20/20 Mbps connection. We couldn't even get 3Mbps download and 1Mbps upload most of the time. It took the president visiting to get them on the line and really help us diagnose the problem. After several hours on the phone with the ISP /I/ finally tracked the issue down. Their fiber box is a managed switch. In order for them to be able to restrict the data flow on this switch the ethernet port must NOT be set to auto-negotiation. Their technicians had set the port to 100Mbps full-duplex. This isn't a problem but they do not seem to understand how auto-negotiation works with ethernet and did not inform us of this incredibly important piece of information. In order for auto-negotiation to work properly both ends must support it and have it enabled. Manually specifying the speed and duplex disables auto-negotiation. This resulted in the problem we had because auto-negotiation can only detect the connection speed when the other side doesn't not support or has the feature disabled. It cannot detect the duplex speed. The standard says it should fall back to half-duplex. This caused 100-half <-> 100-full and they do not get along very well. They set their switch back from manually set to auto-negotiation. Problem solved for now. They are going to switch it back later tonight. Now that we know the true cause of the lame speeds we can solve it ourselves later this week. Need to order another managed switch of us to plug in to their box as we are all out of them atm.
Published on 2011-12-06 11:33:35.